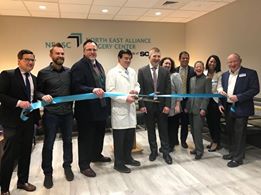 Included In This Picture Are: Mark Waldron, State Representative Josh Elliot, Hamden Mayor Curt Balzano Leng,Dr. James J. Yue, Lindy Gold, senior development specialist with DECD, and Dale Kroop,Director of Economic Development and Neighborhood Revitalization.
We
were pleased to attend the ceremony yesterday for the Northeast Alliance Surgery Center on 2080 Whitney Avenue at the location of the former St Raphael's surgery center, just north of Skiff Street. This is an important project not only because of the job creation and significant tax base increase, but also because it creates good competition in the healthcare market place. Finally, it also helps the supply chain of our health care marketplace by creating new collaborations between other Town health care providers and suppliers. It is an excellent project and one I am proud to be part of.
For further information about the facility, please
click on this article
in the New Haven Register. For further information about this, please contact Dale Kroop at 203-287-7033, or
dkroop@hamden.com.
---
Comments: