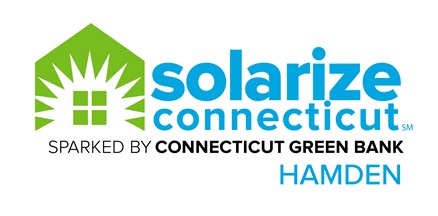 Contact: Kathleen Schomaker, 203-287-7036
Hamden Sponsors a Live Solar Webinar
Learn about the Solarize Hamden Program from Home
Hamden, CT— The Town of Hamden is sponsoring a live solar webinar on Wednesday, December 6 at 6:30 pm. Residents can learn about the Solarize Hamden program that offers discounted solar pricing through a town approved solar installer and about state and federal incentives and the many financing options. Participants can log in and ask questions of the town chosen installer C-TEC Solar.
WHAT: Solarize Hamden Live Solar Webinar
WHEN: Wednesday, December 6, 6:30 pm – 7:30 pm
WHERE: Livestream at https://livestream.com/accounts/26430252/SolarizeHamdenCT
Solarize Hamden is a coordinated effort across the community, supported by the Town of Hamden. Through a competitive selection process, the Town has selected C-TEC Solar as their solar installer. C-TEC Solar will provide the solar installations in Hamden at special discount pricing in exchange for outreach and education from the Town.
Homeowners who want to find out if their home is good for solar can go directly to Solarizect.com/Hamden. Residents who live in surrounding communities can also participate in Solarize by going to SolarizeCT.com.
"Mayor Curt Leng supports the Solarize Hamden program, "Hamden is very happy to bring Solarize CT back to our residents for a second round. Hamden is committed to sustainability and this program is a great way for our residents to become involved and take control of their energy bills. Solarize Hamden is a way for our residents to receive discounted pricing and the peace of mind that comes with working with a reputable solar installer vetted by the Town. Residents can take advantage of solar incentives and different financing options to stabilize their electric bills for years to come. As the Town itself continues to improve energy efficiency and reduce energy costs across our buildings, I strongly encourage residents to make the same effort and find out if their home is compatible with the Solarize CT program. Residents can sign up for a free solar evaluation, or attend a Solarize CT workshop to find out more. It truly is a great way to save money and help our environment too!"
More information about Solarize Hamden can be found by visiting Solarizect.com/Hamden or by contacting Kate Donnelly – kdonnelly@smartpower.org.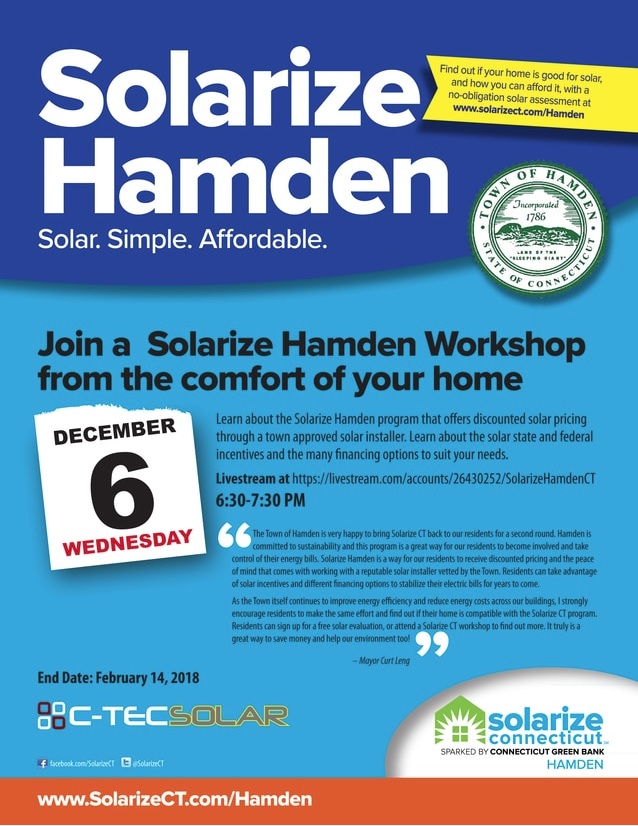 ---
Comments: